Past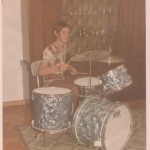 1962: The first drums were made of boxes, pillows and the notorious cooking spoons.
1968: He bought his first bongos.
1971: The first real drums ( Pearl and of course PAISTE-Cymbals). First band-, gig- and tour experiences.
1976: Jazz-Rock-Gigs with Thilo von Westernhagen.
1977: Jam-Sessions with Alto Pappert, sax (Kraan) und Guru-Guru musicians.
1980: First experiences as a drum teacher.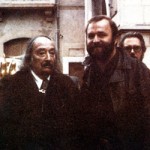 1981: After detours via Berlin (1979), Cadaqués/Spain to Munich (construction of a recording studio with orchestral musician Mimo Patete from Rome, and painter and songwriter Herdin Radtke (see right picture with Salvador Dali).
Since 1982 residence in Hamburg.
1983: Endorsement with Paiste Cymbals & Gongs.
1985: 1985 Drum and percussion lessons at Zitty-Sound Music School, Hamburg.
Until 1987: several band formations and cooperations with New Wave bands (e.g. `Die Experten, Foreign Affairs, Grüne Rosen, Sync. Song (Ethno Pop), Sessions with Jens Fischer (guitar player of Inga Rumpf, Eberhard Schoener and Tri Atma), Heavy Rock-Drumming for the Power-Trio-Flynn and the beginning of his passion for stage constructions, show- and pyrotechniques).
1987: Foundation of the drum school Klaus Rädisch.
.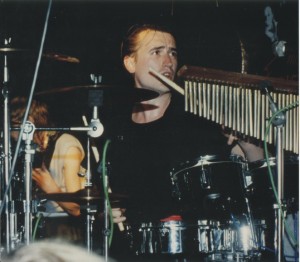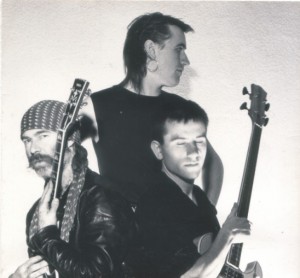 .
1988: Entry and tours with the cult-band Ledernacken.
Since 1989 Endorsee of Premier-Percussion/ GB.
1991: Studio project `Beatnik Party´ with Ledernacken-musician Folke Jensen (g, voc), Armin Schwerdtfeger (b, voc), Lee Davis (voc, organ), Corinna Ludzuweit (perc; Drafi Deutscher, Rolf Zuckowski, Tätärä, Rad etc.) and Marion Schwaiger (voc; MariusMüller-Westernhagen etc..).
1996: Foundation of the Neue Deutsche Welle-Coverband `Die goldenen Reiter´ with Ledernacken-musicians Armin Schwerdtfeger (b, voc) and Rudi Grosser (g). Vocals: Melanie Stahlkopf (e.g. Lotto King Karl & the Barmbek-Dreamboys) and Ole Lehmann.
1997: Presentation of Lotto King Karl-hit "Da is´ die Tür" from and with Lotto King Karl in Hamburg, DOCKS.
1998: Renaming in `Die Könige von Deutschland´. Vocals: Lars Kühn and Christine Westphal (Eisblume). Bass- Kim Kiesling (Johnny Liebling). Keyboards: Tim Hellmers (e.g. Pe Werner and Kay Ray), guitar- Enrico Rode.
.
.

2001: Participation at Yoga courses with John Scott (Yoga-Lehrer of Madonna and Sting).
2002: Live-project `Tempeljazz´, with Günter Märtens (b; Ulrich Tukur & die Rhythmusboys), Mäddi Tation (perc; Nena-Akustik-Band, Cultured Pearls, Mousse T. etc.) a Mongolian obertone singer, a didgeridoo-player, a three-piece brass section, three guitar players and a further drummer culminated in a celebrated concert at the Hamburg FABRIK.
2003: Introduction and classes in the art of playing the musical saw with Ralph Stövesandt in Düsseldorf.
2004-2006: Studio work for live performances (drums and percussion) at the `This-side-up-Tonstudio´ of Schule Telemannstraße (Hamburg) under the direction of music teacher Annette Dostall and sound engineer Enrico Rode.
Soundtrack `Afrika´ for an exhibition and the gallery of Katalin Meixner www.katalinmeixner.de) composed and recorded at `This-side-up-Studio´.
2006: Sold out benefit concert for the closure of Schule Telemannstraße at the DELPHI SHOWPALAST with more than 50 participants (pupils, ex-pupils, and the band `Die Könige von Deutschland´ with FRL. MENKE); leader of the school cajon orchestra.
leader of the school cajon orchestra.
.
After 35 years stage experience, his 50th birthday, hundreds of gigs with more than 150 different musicians and dancers, the managing and leading of about 150 Neue Deutsche Welle shows and the teaching of more than 200 students it can be said that Klaus Rädisch`s (Roxy Raed`s) drumfire is still burning.